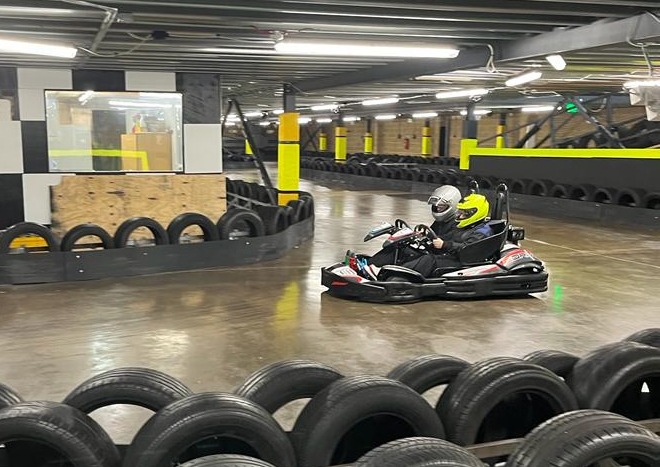 Our Maidenhead track has become the first indoor karting venue in the UK to offer free sessions to visually impaired children and adults.
By working with local charity Berkshire Vision and our own charity Absolutely Together, we are hosting five events throughout the summer and providing a unique experience for local people with sight loss.
Those participating will take to the track in one our specially adapted twin-seat karts, where they can control the steering with assistance from an expert instructor. Family members can join them for a race in standard karts, enabling everyone to experience the thrill of go karting together.
Absolutely Together is part of the Absolutely Leisure Group, a registered charity working with families who have children and young adults with additional needs. It aims to put thousands of smiles on faces across the region by providing free access to leisure activities that families can take part in together – something not always possible due to financial or physical restrictions.
Berkshire Vision helps visually impaired children and adults to develop confidence and live independent lives safely. It provides vital practical and friendly support, as well as access to sport and activities to those who are visually impaired in Berkshire, and their families.
Hannah Lennox from Berkshire Vision commented:
"Working with Absolutely Karting has enabled our visually impaired service users to have the unique opportunity of driving in a safe environment. All attendees have thoroughly enjoyed the adrenaline-fuelled fast laps with support from the instructors."
Matt Schofield, Venue Manager at our Maidenhead track, added:
"From the work we continue to do with Absolutely Together, we know how difficult it can be for families who have members with additional needs to access leisure activities, so we're delighted to be hosting these events and welcoming families who are supported by Berkshire Vision to the track."
We have already hosted two events for adults. Three further free karting events will take place on Tuesday 9th, Monday 15th and Tuesday 30th August specifically for children who are visually impaired. Families who would like to take part in one of the free go karting sessions can do so by contacting Berkshire Vision's Children, Young People and Family Officer Carol on 0118 987 2803.